NEWS FROM THE FRIENDS
Ospreys Have Returned
Our osprey couple has returned to the Friends of Blackwater Osprey Cam. We're excited to see that the pair has quickly filled the nest with fresh sticks and we hope to see eggs soon.
Free Bird Walks
Blackwater NWR offers free bird walks on select weekends throughout the year. Visit our Events Calendar to find dates for upcoming bird walks and come join our bird expert for an intimate look at our local bird life.
Youth Fishing Fun Day
Our Youth Fishing Fun Day will be held on June 3, 2017, from 9 a.m. to 1 p.m. This fishing event is for youths 15 and under, and includes gifts, food, photos, fishing help, and lots of fun!
Youth Conservation Corps Positions
Blackwater NWR is offering summer employment for high school youths through the Youth Conservation Corps program. Visit the FWS Blackwater NWR website for more information.
Share your images!
Do you have a great image from Blackwater NWR? Be sure to visit our online gallery of images and videos from Blackwater NWR. You can submit a photo or video for inclusion in our gallery or you can share your photos and videos with us on our Friends of Blackwater Facebook page. Show us what you've got!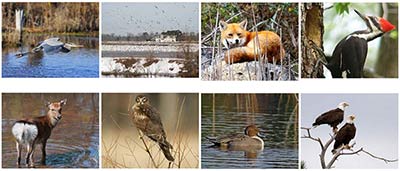 ---
What is a national wildlife refuge?
You might be surprised to learn that national wildlife refuges are different than national parks. The National Wildlife Refuge System is the only system of federal lands devoted specifically to wildlife. While national wildlife refuges provide recreational opportunities for people, they also provide habitat for more than 700 species of birds, 220 species of mammals, 250 reptile and amphibian species, and more than 1,000 species of fish. More than 380 threatened or endangered plants or animals are protected on wildlife refuges. Each year, millions of migrating birds use refuges as stepping stones while they fly thousands of miles between their summer and winter homes. Learn more about America's National Wildlife Refuge System at fws.gov/refuges.